Dance In

Bali

Late every Sunday afternoon in my compound I hear the sound of girlish laughter as a group of young girls come for their weekly dance lesson. A creaky old cassette player wheezes out some very treble gamelan music and the class begins.
Only eight or nine years old the girls are already professionals. Veterans of two years of tough study and hard practice they are able to follow the moves of their teacher, Wayan Sudi with practiced ease. While it may look easy, it takes a huge amount of discipline to perfect the moves. Wayan is not gentle with her students as she pushes their heads and hands into their correct position. Surpassingly it is the favored students who suffer the most. Talent needs to be nurtured and perfected, and she makes sure that the most talented get it right.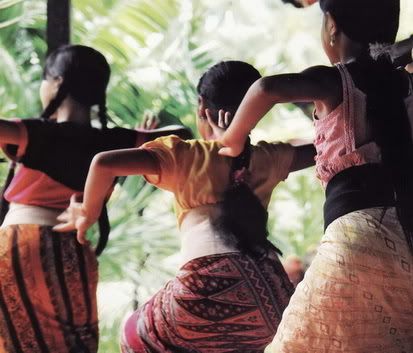 They are learning to dance for their temple rather than commercial reasons but even so, they are available for less sacred purposes. The opening of a hotel or gallery, or even a villa is always enhanced with a display of Balinese dance.

Teacher Wayan Sudi learn dance years ago when it was one of the subjects taught at her school in Sukawati. She is a recognized Legong and can be seen performing this special dance at ARMA each week. She teaches young girls as a part of her sacred duty rather than for monetary returns. Anything she receives is little more than a pittance.

Bali's dance, like the culture, is kept alive and dynamic. Generation after generation have learned the moves and gestures of their ancestors. From an early age children are exposed to dance. Even before they can walk, they are brought to temple ceremonies where dance and the pervading music of the gamelan enters their souls. By the time they are five or even four they are ready to learn more.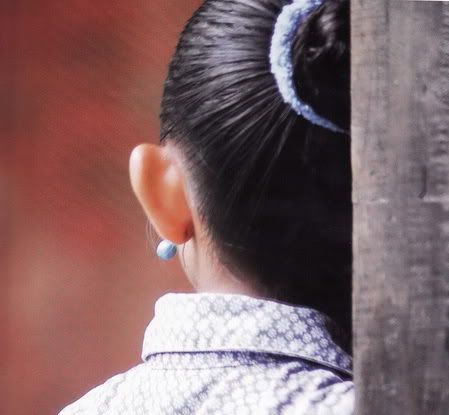 Behind the scenes the banjars, the community organizations make sure that beliefs and traditions of dance and music are kept alive in their village something that happens all over Bali.
On the village or traditional level, dance is taught by a kind of absorption method. The girls follow their teacher time after time until the moves are considered to have entered the body and they can perform them by themselves. Then the teacher will stand behind correcting, pulling and pushing their limbs into correct postures, with the right gestures and expressions. Balinese dance is all about control and balance, integral parts of the learning process.

Every limb, every muscle and every motion are held in control. Watch
if you can, Nigel Simmon's beguiling movie on

Bali

. One segment features a dancer moving almost in slow motion. The camera is in close, inches away from her, almost touching her face, but her command of her movements and senses as she performs, seemingly unaware of the intrusion, is breathtaking.

The variety of dance in Bali is dazzling. First there are social dances - like the welcome dances where girls throw flowers to the guests and Joget where pretty female dancers invite audience members to dance with them -wrth often hilarious results - especially when it is held in a village.
Kecak is one of Bali's most dramatic performances. Created by westerners in the 1930's it is a blend of older dances and music forms made into a hugely dramatic portrayal of the fight of good against evil, taken from the great Hindu epic the Ramayana. It is visually spectacular, and seen in the dim light of oil lamps with three young costumed girls, and an army of men clad simply in sarungs as they chant the backing chorus of "cak, cak, cak'; it can really make you believe in magic.

The elegant Legong is another favorite and those interested can explore ever more dances like the Rejang, the popular Gambuh and several compelling mask dances.The mountain to of Kintamani is home to the Bans Gede - a formalized warrior dance that is both stately and compelling. The sacred barong is one of the most loved of Balinese dances, which can be seen in various tourist sites in temples and around Galungan time, by teams of small boys roaming the streets with various forms of baby barong - a very heartwarming sight.
Apart from this little class in my compound, dance is taught all over the island, often with a dozen of so students learning privately from a good teacher.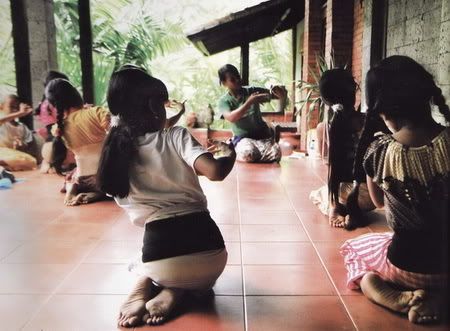 Several hotels IikeTanjung Sari in Sanur and Amandari hold classes, as does the~well-established ARMA in Ubud. In Denpasar two government schools operate.The STSI on JI Nusa Indah just north of the Arts Centre runs the equivalent of University training in dance and music. KOKAR in Batubulan, close to the place where daily barong shows are held, offers the equivalent of a high school education specializing in dance and music. You can ask your guide to arrange a visit where you will be welcome to sit and watch the students.

The culmination of Bali's cultural calendar happens between mid June to late July when the Bali Festival of the Arts showcases dance and drama performances from across the island. It is a time not to be missed by any budding culture vulture. All the best and the newest, not to mention avant garde performances are highlighted. You can lose yourself in a world of dance performances. One year recently there was a kecak performance, which included classical Indian dancers from America and classical Indian singers from India. It was a cultural co-operation that really worked!

While lucky visitors may get to see a performance at a temple, there are plenty of public performances for visitors who would like to experience a taste. Check your tourist guides and ask at your hotel for recent updates. In Ubud visitors may find themselves gently accosted on the streets, by men dressed in traditional clothes. Don't ignore them, as they are selling tickets for the night's performances and trying to make a little pocket money. But fear not. The shows are genuine. A weekly program will show you what is happening where.The Ubud place holds regular evening shows which is are always a pleasure to watch.

In the end, the Balinese themselves love dance and their first responsibility is to please the gods. But if we get to experience a performance, whether sacred or public, we can consider ourselves blessed.