Surabaya, provincial capital of East Java and Indonesia's second largest city, served for over half a millenium as trading port for the inland empires of Java. Situated at the mouth of the Brantas River, the city was officially founded in 1293 when raden Wijaya established Majapahit, Indonesia's most glorious empire on the site of a legendary battle between a shark (sura) and crocodile (baya).
Surabaya, known as the "City of Heroes" because of its role in nation's independence struggle,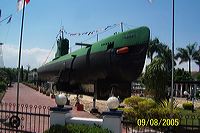 has grown into an elegant city of large, colonnaded buildings bordering broad, tree shaded avenues. It serves as the commercial centre of athriving industrial and agricultural hinterland. The city's historical sites include Kali Mas harbour with its tall-mastered trading schooners and, nearby, the narrow alleyways and shops of the Arab quarter, redolent of the Middle East.
The historic Hotel Majapahit, where Indonesia's war of independence was begun, and the elegant Grahadi State Buildings, an 18th century mansion, have been restored as monuments to an era of colonial grace. Surabaya is also home to one of Southeast Asia's oldest and largest zoos. For travelers in East Java , Surabaya serves as a convenient base for exploring the regions many charms, including Mt. Bromo, the cool mountain retreats of Tretes and Malang and the natural wonders of several nature reserves.